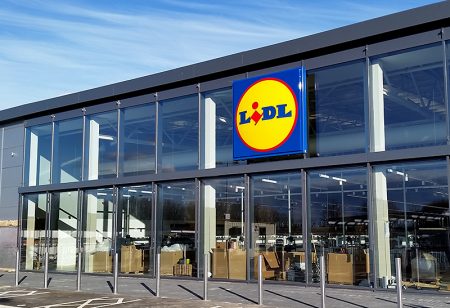 Discount retailer Lidl has announced that it plans to open its new Stoke Gifford store this Thursday, 5th April.
Located within part of the former B&Q building at Fox Den Road [BS34 8SP], the store occupies a unit that sits between The Range and Poundstretcher.
Customers are invited to attend the ribbon-cutting ceremony at 8am and will be offered the chance to sample some of Lidl's award winning products throughout the day, along with exclusive deals and offers on selected products for the first week of opening.
The new supermarket forms part of the company's ongoing expansion and regeneration plans in the UK and has created 40 new jobs for the local community. The store features an in-store bakery, longer-style tills with dual packing, a customer toilet, baby changing facilities and ample parking for both cars and bicycles.
Lidl UK's regional head of property, Glen Stidever, commented:
"We would like to thank all those who have played a part in bringing this new Lidl store to Stoke Gifford. It is great for us to be able to create more jobs and investment opportunities in the area, and we can't wait to start serving our multi-award winning products to the local community."
The prospect of a Lidl supermarket opening at the Fox Den Road site was first revealed by the Journal in September 2016, after the firm commissioned a report that was included with a planning application for subdivision of the former B&Q building.
A 'retail assessment' report submitted with that (since approved) application anticipated that the Asda store at the nearby Abbey Wood Retail Park would experience the highest level of trade diversion as a result of the proposed development, due to an overlap in target market. The new Lidl store is expected to derive 30 percent of it turnover from this source, representing a 10 percent impact. The adjacent Sainsbury's store is also expected to be affected, but to a slightly lesser degree, resulting in a 5.4 percent impact on convenience turnover.
The opening of the Lidl store means that the building is now fully occupied for the first time since B&Q reduced its floorspace some years before closing down completely in June 2016.
Photo: The Lidl store at Fox Den Road nears completion (pictured on 25th March).
This article originally appeared in the April 2018 issue of the Bradley Stoke Journal news magazine (on page 15). The magazine is delivered FREE, EVERY MONTH, to 9,500 homes in Bradley Stoke, Little Stoke and Stoke Lodge. Phone 01454 300 400 to enquire about advertising or leaflet insertion.