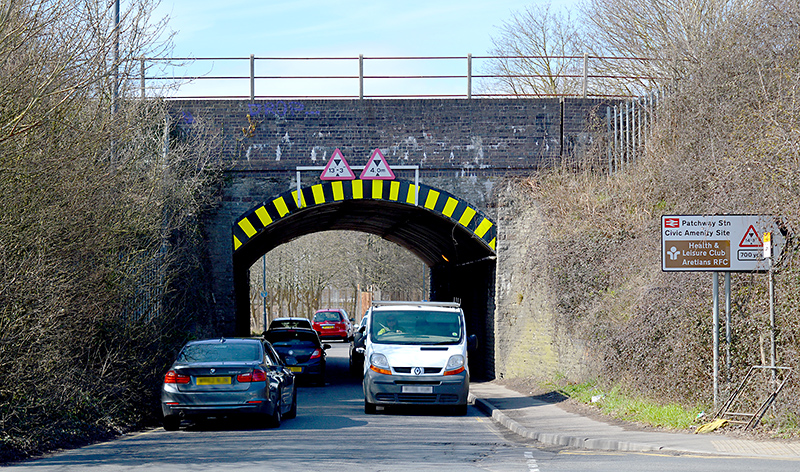 A South Gloucestershire Council (SGC) site inspection meeting was held on 4th May in connection with the planning application for the replacement of the old railway bridge on Gipsy Patch Lane in Little Stoke. This application is one of four currently being considered for the proposed Cribbs Patchway MetroBus Extension (CPME) scheme, which will provide a direct express bus link between Bristol Parkway Station and The Mall bus station via the planned new developments on Filton Airfield.
As previously reported, work at the railway bridge site will require a full closure of Gipsy Patch Lane for up to eight months, which is likely to cause significant disruption to traffic flows in surrounding areas.
Two businesses located very close to the railway bridge, Strenco Tools and Tyres Direct, have raised objections, citing concerns over access and impact on trade, and calling for a thorough assessment of the impact of the road closure on the local economy to be carried out.
SGC officers have been asked to report back to councillors with details of future consultation and public engagement with regard to arrangements for the construction period, and in particular the closure of Gipsy Patch Lane. They have also been asked to consider whether there are any options available to enable the works to be accelerated.
An SGC spokesperson said:
"Following on from the site inspection meeting, this application, along with the related one for widening works on Gipsy Patch Lane, is expected to go to the meeting of the Development Control (West) Committee on 12th July."
More information and related links:
This article originally appeared in the June 2018 issue of the Bradley Stoke Journal news magazine (on pages 4 & 5). The magazine is delivered FREE, EVERY MONTH, to ALL 8,700 homes in Bradley Stoke. Phone 01454 300 400 to enquire about advertising or leaflet insertion.