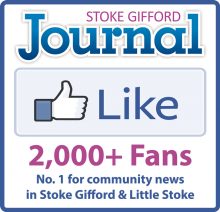 The Stoke Gifford Journal's Facebook page has reached a significant milestone by breaking through the 2,000 'likes' barrier.
Our Twitter feed (@TheSGJournal) has also seen an increase in followers, breaching the 1,500 mark in recent weeks.
Journal editor Stephen Horton comments:
"Our Facebook page enables us to keep residents informed of important local news between issues of our print magazine. It also allows readers to easily comment on stories that have appeared in the magazine and to start new discussions by posting their own news items, which appear in the 'visitor posts' section."

"Readers can also send private messages to our Facebook page and they will usually receive a response within minutes."

"The Journal is proud to be the only community news publication dedicated exclusively to the parish of Stoke Gifford. Reaching this latest milestone shows just how much local residents appreciate our multi-channel offering at a time when many other local news publications are in decline."
• Check out our separate Facebook pages for the Bradley Stoke Journal, Patchway Journal and Filton Journal. The total fan count across all North Bristol Journal Series Facebook pages currently stands at 12,224.