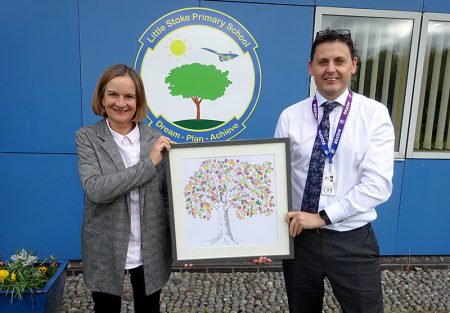 Every day is an opportunity for learning for the staff and children at Little Stoke Primary School. That was even true at the end of October when attention turned to the departure of the headteacher, Scott Howes, who was leaving the school after six happy and successful years, to take on a new job in Northern Ireland.
"Learning how to deal with goodbyes is an important life skill that we've been able to share with the children as Mr Howes leaves," said Anne Sargent, who has now taken over as headteacher having previously worked alongside Mr Howes as deputy head. "We talked about change and about looking forward to the next chapter of our learning adventure at Little Stoke."
In his final week, staff and pupils turned their well wishes into personalised songs, videos and other activities during assemblies that created special memories for everyone involved. As part of these celebratory activities, Mr Howes received a number of gifts and presentations from the children which reflected the warm feelings of the whole school community. These included a beautiful framed 'fingerprint tree' which every child contributed to and a very special 'coat of memories' adorned with written memory stars from every child and member of staff.
The school also celebrated by holding a quiz for Mr Howes to test his knowledge about the teaching team. For example, asking which teacher also had their glider licence? His correct answers resulted in winning tools that would help him complete tasks at the end: painting a self-portrait, building a tower from spaghetti and marshmallows and decorating a cake. The children, of course, found this very amusing!
Stephen Wells, chair of governors, thanked Mr Howes for being such an important and lasting positive role model for the children and a person who would be long remembered by those at the school.
Scott Howes joined the school six years ago at a time when it had falling pupil numbers. Since then he and Mrs Sargent have made a number of significant changes resulting in the school becoming popular with parents and being rated 'good' by Ofsted.
"I have very much enjoyed my time at the school and will take away many happy memories," said Mr Howes.
Photo: New head Anne Sargent presents Scott Howes with the fingerprint tree picture.
This article originally appeared in the December 2018 issue of the Stoke Gifford Journal news magazine (on page 20). The magazine is delivered FREE, EVERY MONTH, to over 5,000 homes in Stoke Gifford, Little Stoke and Harry Stoke. Phone 01454 300 400 to enquire about advertising or leaflet insertion.