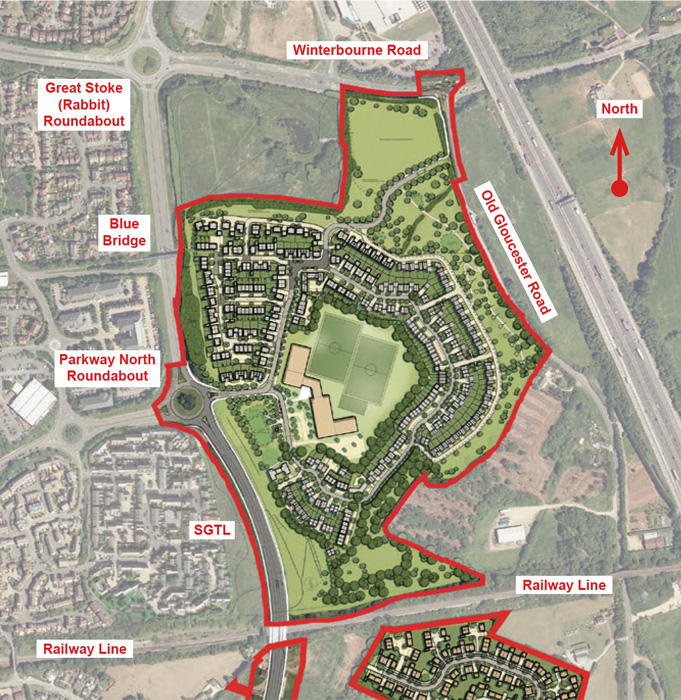 House builder Crest Nicholson has been granted planning permission to build a total of 327 new homes, along with a primary school and a nursery, on steeply sloping agricultural land immediately east of Great Stoke Way and the new Stoke Gifford Transport Link (SGTL).
The 22-hectare development, which lies north of the main railway line that runs through Bristol Parkway, will form part of the East of Harry Stoke New Neighbourhood, an area earmarked for 2,000 new homes in South Gloucestershire Council's Core Strategy.
Full permission was granted for 150 of the homes and a site-wide earthworks strategy, with outline permission for the remaining 177 homes, the primary school and the nursery.
The approval comes follows the granting of outline planning permission, in November 2018, for 1,290 new homes on Crest's related site to the south of the railway.
A number of smaller sites in other ownerships are expected to contribute the remainder of the new neighbourhood's overall housing quota.
Access to the 'Crest north' site will be from a new arm off Parkway North Roundabout in the west, and via a new junction on Old Gloucester Road, 90m south of its junction with Winterbourne Road in the east. A pinch point will be introduced on the main spine road through the development to discourage through traffic.
Extensive earthworks are required to create a level plateau to enable development. These earthworks comprise levelling the site at its highest point and infilling areas on the lower slopes, with no intention to take material off site. This will involve the excavation and relocation of 250,000sqm of material, resulting in embankments with gradients as steep as 1:2 around the perimeter of the site.
The council has accepted Crest's position that the earthworks required to deliver the required dwelling numbers and provide a site for the school represent a "significant abnormal cost" which partly justifies reducing the proportion of affordable homes within the development to 22.6 percent.
The loss of 1,400m of hedgerows, including one of medieval origin marking a historic parish boundary, was deemed "regrettable" but accepted as being necessary to provide a site for the school.
Work on the site could commence as early as April 2019, according to a statement made by Crest's agent at the planning committee meeting.
Image: Crest Nicholson Masterplan (October 2018). [Click to enlarge. Hi-res version available here on Dropbox]
N.B. Annotations have been added by the Journal. Refer to the planning applications for definitive documents.
More information and related links:
This article originally appeared in the January 2019 issue of the Stoke Gifford Journal news magazine (on pages 10 & 11). The magazine is delivered FREE, EVERY MONTH, to over 5,000 homes in Stoke Gifford, Little Stoke and Harry Stoke. Phone 01454 300 400 to enquire about advertising or leaflet insertion.
Postscript (20th January 2019)
With reference to the agent's statement about a possible start date for work on the site, we asked the council if it considers the April 2019 date achievable. A council spokesperson responded (unfortunately too late to make our magazine print deadline):
"[Since] members resolved to approve the application at the end of November, work has been progressing at speed with the applicants to agree wording for the Section 106 legal agreement, which will be attached to the decision. Good progress is being made and, as such, the April 2019 target to commence is considered to be achievable."