Posted on Friday 8th March 2019 at 9:47 pm by SH (Editor)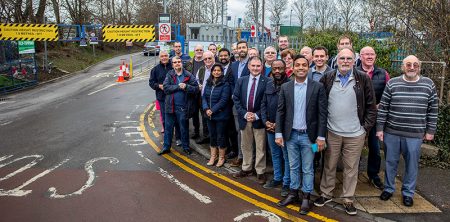 With local elections just months away, Conservative campaigners are promising to find a site for a brand new recycling centre that would be able to provide a better service to a larger number of residents and deal with an expanded range of materials.
The proposal to find an alternative, within the Bristol North Fringe, to the existing site in Little Stoke is set to be a "key pledge" for the Conservative Group's campaign ahead of the elections on 2nd May, along with a promise to further improve recycling standards.
South Gloucestershire Council is currently searching for potential alternative sites within easy reach of residents living in communities such as Bradley Stoke, Stoke Gifford and Patchway – a site which would complement the existing recycling facilities in Thornbury, Yate and Mangotsfield.
Cllr Sarah Pomfret who represents Bradley Stoke Central and Stoke Lodge, said:
"We are keen to see a new Sort It centre built in our area, one that is larger than the current site in Little Stoke that is less restrictive so it can handle more people and more types of waste."

"Conservatives in South Gloucestershire understand the importance of encouraging residents for being environmentally sensitive and have worked hard in recent years to provide top quality value-for-money services that ensure it is as simple for them to do as possible. As a result, we are on track to be achieving a 60 percent recycling target by the end of this year and want to better this even further."
Photo: Conservative campaigners outside Little Stoke Sort It centre.
This article originally appeared in the March 2019 issue of the Stoke Gifford Journal news magazine (on page 3). The magazine is delivered FREE, EVERY MONTH, to over 5,000 homes in Stoke Gifford, Little Stoke and Harry Stoke. Phone 01454 300 400 to enquire about advertising or leaflet insertion.
Update (8th March 2019)
On Thursday 28th February, just days after the press release behind the above article had been received (and a few days after our magazine went to press), agenda papers for an SGC Cabinet meeting on Thursday 7th March were issued, stating (in the report for item 10):
"Over the past 5 years the Council has been actively pursuing options to acquire land to build a new waste transfer/facility in the North Fringe area."

"The opportunity has arisen to acquire the Viridor Waste Management Site at North Way, Filton, BS34 7QG … which has been advertised for sale by informal tender."
The Cabinet duly resolved to:
"To approve the acquisition and temporary leaseback of the Viridor Waste Management Site, North Way, Filton BS34 7QG on terms to be approved by the Head of Property Services."
Share this article:
Tags: Conservatives, recycling, Sort-It!