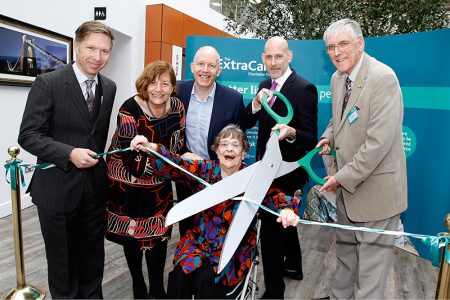 A vast, multi-million pound retirement complex has officially opened in Stoke Gifford. Located off Coldharbour Lane, opposite the University of the West of England (UWE), the Stoke Gifford Retirement Village offers those over the age of 55 a new approach to retirement living. Made up of 92 one-bedroom and 169 two-bedroom fully accessible, self-contained flats, the village is set across 5.5 acres of land and includes a host of on-site facilities.
The Stoke Gifford Retirement Village, which has been under construction for the last 2.5 years, opens as part of a £56m development programme between retirement charity The ExtraCare Charitable Trust, South Gloucestershire Council, who provided £1.9m, and Bristol City Council, who provided £2.8m. This was alongside a contribution of £2.4m from Homes England through the Department of Health and Social Care's 'Care and Support Specialised Housing Fund'.
The ExtraCare Charitable Trust, established in 1988, operates a number of retirement villages and smaller housing developments around the Midlands and further south. Their mission is to "create sustainable communities that provide homes older people want, lifestyles they can enjoy and care if it's needed".
Retirement villages have been designed as an alternative to the traditional care home. The idea is to enable older people to enjoy healthy, active, and independent lifestyles in their later years. However, should care and/or dementia support be needed, it can be assessed and provided in the comfort and privacy of a resident's own village home. This means that couples can remain together even when one partner becomes frail.
The villages aim to foster an environment of supported independence where residents can take advantage of the social and leisure opportunities provided by the wide range of facilities available. These include a bar & bistro, a village hall, a library & IT suite, a hair & beauty salon, a gym and a shop; all of which are also open to the wider public.
There are also numerous activities that take place within the Stoke Gifford village, many of which are for the wider community as well as the village residents. For example, several inter-generational groups are organised throughout the week, such as the Acorn & Oaks Playgroup which takes place on a Wednesday morning between 10.00am and 12.00pm and the Wise Owls after school club who come from a local primary school to visit the library and read with some of the residents. If you would like to find out more about the different activities taking place at the village, please phone 0117 332 5440.
The official opening of the Stoke Gifford Retirement Village took place on Thursday 14th March 2019 with the ribbon being cut by residents Brian and Sheila Lomas, Cllr Ben Stokes (South Gloucestershire Council, Cabinet member for adult care), Cllr Helen Holland (Bristol City Council, Cabinet member for adult social care), Andrew Strong (village manager) and Mick Laverty, chief executive of the ExtraCare Charitable Trust.
During the official opening, Cllr Stokes said:
"It's fantastic to see this new ExtraCare village officially open. We want to make sure that our growing number of older residents continue to live well and carry on leading fulfilling lives well into their later years. This village, as well as others like it, are preventing isolation within elderly communities."
To access the retirement village, take the eastern exit off the UWE Roundabout on Coldharbour Lane and then take the next right. If you proceed past the building, you can turn right into the car park. You can also walk from the MetroBus stop 'UWE Gardens'.
As you enter the main building, you are struck with how open and bright it is. The skylights allow so much light into the building that even on a dark and rainy day, it feels well-lit. The modern décor creates a spacious environment for the residents and the facilities provide a whole variety of activities for everyone to enjoy.
The apartments themselves are spacious and cater for a variety of needs, such as wider doors for wheelchairs and non-slip showers. The ExtraCare Charitable Trust has also gone into partnership with UWE to pioneer the integration of technologies into residents' homes to empower individuals whilst reducing care needs. The UWE team that are working on this project are looking at how smart devices, intelligent sensing systems, smart assistants and assistive robots may be able to provide autonomy and support independent living for longer.
The first residents started to move in last November, with 80 homes now being filled. The flats are available to purchase as 50 percent ownership, 75 percent ownership or outright ownership with prices varying from £140,000 through to £450,000. There are also a number of homes available to rent for people on a minimum income receiving maximum benefits.
Brian and Sheila Lomas were amongst some of the first residents to move into the village in November 2018. As part of the ribbon cutting ceremony, Sheila gave a speech about her first few months of living in the new development. She said:
"It felt like home straight away. I go to the gym every day and I have not used my wheelchair since moving in. Moving into the village has given me so many opportunities to take part in activities and meet new people. We are both so happy!"
P.S. Look out for a follow-up article in our next issue about volunteering opportunities at Stoke Gifford Retirement Village.
• Map showing location of the village (SGJ)
Photos: 1 Ribbon cutting (l-r) – Cllr Ben Stokes, Cllr Helen Holland, Andrew Strong, Sheila Lomas (seated), Mick Laverty and Brian Lomas. 2 External view from one end of the complex. 3 The light and spacious reception and communal area.
This article originally appeared in the April 2019 issue of the Stoke Gifford Journal magazine (on pages 10 & 11). The magazine is delivered FREE, EVERY MONTH, to over 5,000 homes in Stoke Gifford, Little Stoke and Harry Stoke. Phone 01454 300 400 to enquire about advertising or leaflet insertion.