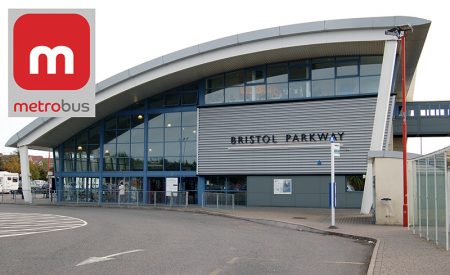 South Gloucestershire Council's Cabinet has given approval for officers to enter into an agreement with Great Western Railway (GWR) for the implementation of a scheme of improvements at Bristol Parkway that could make it easier for MetroBus services to access the station from early 2020.
The original MetroBus network, as described in the planning application for the North Fringe to Hengrove Package bus rapid transit scheme, included a route between Emersons Green and Bristol Parkway via UWE, but this was silently dropped during the construction phase. It later emerged that this was because MetroBus vehicles could not currently enter and leave the station via the rear (Hunts Ground Road) entrance due to the constrained nature of the site. This was originally thought to be due to the tight turns that the access road makes around the station's multi-storey car park. However, First Bus boss James Freeman later revealed that the issue is actually one of buses coming in via the rear access not being able to execute a turnaround manoeuvre so that they can go out the same way.
There was never any plan for buses on the Hengrove Park to Cribbs Causeway route (now known as the M1) to make a diversion into and back out of the station. Whether this might change in the future is open to speculation, but to do so would significantly add to M1 journey times which are already bettered by the less frequent T1 service.
A council spokesperson said:
"Bristol Parkway is identified as a key bus/rail interchange for the MetroBus network and local bus services. Officers have been working with GWR to develop a scheme to facilitate enhanced interchange at the station."
The Journal has learned that a £650k scheme has been designed, which the council will part-fund, with GWR, to the tune of £300k. As well as facilitating in-out bus movements via the Hunts Ground Road entrance, the scheme will provide additional bus stops in the station forecourt and see the renewal of the existing bus shelters.
GWR has advised the council that if a funding package is confirmed by the end of May 2019, then the project could be completed within the 2019/20 financial year, prior to the end of the its current franchise period.
Whether a commercial operator can be found to operate a MetroBus service to the station and when such a service might start remain open questions.
This article originally appeared in the April 2019 issue of the Stoke Gifford Journal magazine (on page 14). The magazine is delivered FREE, EVERY MONTH, to over 5,000 homes in Stoke Gifford, Little Stoke and Harry Stoke. Phone 01454 300 400 to enquire about advertising or leaflet insertion.