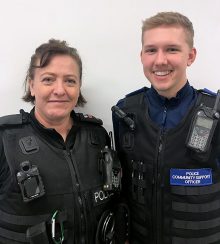 Archie Flook, the new PCSO for Stoke Gifford and Little Stoke, has finished his training and tutoring and is now fully active within the local neighbourhood beat area. He is keen to establish a good relationship with the community and "make himself known" to local residents so that people will feel comfortable approaching him with any issues or concerns they may have.
Working alongside beat manager Julie Rudyard, Archie's job is to work with members of the community to make the area a safe place to live and work. Although his role is extensive, some of his key responsibilities are to:
Offer advice on crime prevention
Deal with anti-social behaviour
Talk with young people and visit schools
Make house visits to reassure people and gather intelligence
Provide support at large public gatherings
Attend Community Engagement Forums and beat surgeries
Archie is thoroughly enjoying his new role, saying: "We are the main point of contact for the area which is a good task to be given. We have gone back to neighbourhood policing, which means we get to spend more time in the community speaking to the local residents. I get to stay with a job and see it through to the end."
There has been some concern over the last few months about the lack of PCSOs on the streets of Stoke Gifford and Little Stoke as the year began without a single PCSO in the area. Hopefully members of the community will now be reassured as they see Archie out and about. Julie has also confirmed that recruitment is ongoing for the other PCSO position that is available.
Julie and Archie have been given laptops so that they are able to work away from the station. This has been an invaluable resource for them as it means they can spend more time in the community. Julie said: "Having laptops that we can carry around with us gives us the opportunity to engage with the community as well as getting our admin work done. So, if you see us sitting in a café, we're not just having a cup of coffee! We're also working, so come over and speak to us if you have an issue that you want to discuss."
One of the most important parts of Julie and Archie's job is to hold weekly beat surgeries. These take place every Wednesday morning between 11am and 12.30pm at Little Stoke Community Hall, Little Stoke Lane. These drop-in surgeries provide residents with the opportunity to meet Julie and Archie and discuss any queries or issues they may have. So far, both Archie and Julie believe these to be successful and they are happy to discuss any issues, regardless of how small you may think they are – as Julie says: "If it is important to you, then it is important to us. We are both really passionate about Stoke Gifford and Little Stoke, and we want people to come and talk to us about what is happening in the community."
Some of Julie and Archie's week is also spent working with schools in the local area. Julie often visits Abbeywood Community School to talk to students about knife crime, anti-social behaviour and to discuss any issues that the students want to raise. Archie has also spent time visiting local primary schools; giving talks and discussing what to do in different situations, for example, if you get lost. You may have spotted Julie and Archie outside the gates of St Michael's Primary School on the occasional morning – they are there to form relationships with the children and their parents and show that the police are not to be feared. So next time you see them there, stop and say hello or give them a wave!
Throughout the year, the beat team have different priorities that they need to focus on. As the spring and summer months approach, one of their main priorities is going to be anti-social behaviour. This means that Julie and Archie will be spending quite a bit of their time visiting local parks and open spaces where this type of behaviour may be occurring. They also want to educate people about how to stay safe during the summer months – for example, remembering to lock windows at night and close them in the day if no one is home, even when it is warm.
As the new beat team spends time in the community, they want to reassure people that there are always police in the area, and they will spend the time needed to sort out any problems. Julie says: "We want residents to work with us and tell us what is going on in their community. If people don't want to leave their name, they can contact Crimestoppers at www.crimestoppers-uk.org or on 0800 555111 as this is completely anonymous."
To keep up to date with the beat team you can follow them on Twitter (@ASPTheStokes).
The beat team webpage is at www.avonandsomerset.police.uk/your-area/stoke-gifford/
This article originally appeared in the April 2019 issue of the Stoke Gifford Journal magazine (on pages 12 & 13). The magazine is delivered FREE, EVERY MONTH, to over 5,000 homes in Stoke Gifford, Little Stoke and Harry Stoke. Phone 01454 300 400 to enquire about advertising or leaflet insertion.