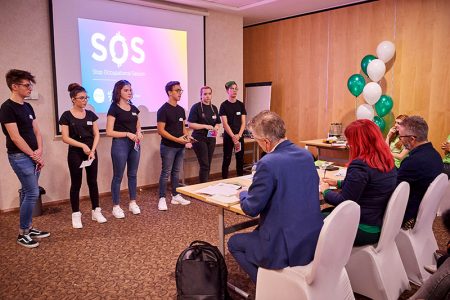 A group of six Year 12 students who attend Abbeywood Community School have reached the final of the Envision Project which they have been working towards for the last eight months. The final took place on Wednesday 12th June at the Wills Memorial building in Bristol city centre, where the group were up against four other Bristol schools.
Envision is an organisation, mainly run by volunteers, whose aim is to develop young people's employability by empowering them to tackle real-life social problems. They have been working with secondary schools in Bristol, Birmingham and London for the last 15 years, seeking to instil character and values in young people. They run a programme called 'Community Apprentice' which is loosely based on the TV series 'The Apprentice'. It is an inter-school competition between five schools which requires students to develop and demonstrate the competencies most valued by employers.
At Abbeywood, two groups of students decided that they wanted to take part in the Community Apprentice challenge and so created two teams; Team SOS (Stop Occupational Sexism) and Team Islam No Phobia. Their first task was the film challenge where they had to work as a team to communicate why the issue they had chosen matters. This had to be done in under two minutes and in a single take. Then they had to prepare a project plan and pitch it to a panel of judges at school – this included the headteacher, Mr Howe and their Envision mentors. After a successful pitch and with a score of 43/45, Team SOS won their place at the final.
Team SOS consists of Chris Yalamov, Bianca Gornea, Galin Zhelyazkov, Lara Dalton, Adnan Evans and Denisa Racaceanu. They decided that their passion lay with tackling occupational sexism in Bristol. They have spent the last eight months developing their ideas by delivering workshops to Year 7 and Year 8 students, as well by creating a board game that is aimed at people over 12 years old that has been put up in two boardgame cafés in Bristol; Playground Café and Chance & Counters.
Denisa Racaceanu, who came up with the initial idea of SOS, said:
"Occupational sexism is a topic that I am really passionate about. I feel like there are so many people who don't go into the jobs that they really want to because of a fear of sexism. And this isn't just about women, this problem affects men just as often."
The group designed the board game to test people's knowledge of the working world and what could impact career progression, such as maternity leave. They also spoke to Year 7 and 8 students about what subjects are available to them in the Sixth Form and what they would need to study for certain careers. Their hope was to change the mindset of the younger students and to remove the fear that they couldn't study certain subjects because it is predominantly male or female dominated. The group received a lot of positive feedback from these sessions which encouraged them to work even harder towards the final.
The final took place on Wednesday 12th June where Team SOS had to present their final pitch to a panel of judges; they were given five minutes to demonstrate the difference they have made and what skills they have developed. They were also able to present a 2½ minute vlog.
Denisa said:
"The final went great! Every team was amazing and we're looking forward to finding out who the winners are in July."
After a long eight months, the group can finally relax and focus on their exams.
Describing the experience, Galin said:
"This has been a great experience and I think it is really going to benefit me in the future. I study business and the Envision project has really developed my skills in teamwork and leadership which are going to be vital during my career."
Denisa added:
"I wanted to do the Community Apprentice to help with my career and work on something that I'm passionate about. This is something that we can all put on our CVs; I have definitely become more confident since starting this project and have developed my presenting skills."

"To anyone in Year 11 thinking of doing this next year, I would advise them that it is going to be hard; they need to be committed to the project. But they also need to think about the end goal; they get to do something they're passionate about, meet new people, make new friends and work towards a common goal."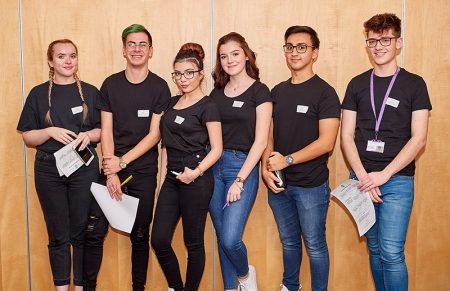 Photos: 1 Team SOS pitching to a panel of judges at Abbeywood Community School. 2 Team SOS members (l-r) :Lara Dalton, Galin Zhelyazkov, Bianca Gornea, Denisa Racaceanu, Adnan Evans, Chris Yalamov
This article originally appeared in the July/August 2019 issue of the Stoke Gifford Journal magazine (on pages 12 & 13). The magazine is delivered FREE, EVERY MONTH, to over 5,000 homes in Stoke Gifford, Little Stoke and Harry Stoke. Phone 01454 300 400 to enquire about advertising or leaflet insertion.