Posted on Monday 11th November 2019 at 11:55 pm by SH (Editor)
Construction activity at the Gipsy Patch Lane railway bridge site stepped up a gear in the fourth week of October as contractors Alun Griffiths began excavating the railway embankment on the east side of the bridge following a period of vegetation clearance.
The excavation work, to both flanks of the bridge, is a precursor to the commencement of piling work necessary to create foundations that will support the much wider replacement bridge at each of its four corners.
In late September, South Gloucestershire Council (SGC) announced that piling work at the site was expected to start on 14th October and last for around three months. However, as we went to press in late October, it still hadn't started and we understand that a new commencement date of 4th November has been scheduled.
The excavation work on the east side of the bridge has required a large amount of material to be transported under the bridge to the site compound on the other side, which has necessitated the use of traffic control using stop/go boards. This work has so far been restricted to off-peak times, which has minimised disruption on the road network.
The new bridge will weigh approximately 4,500 tonnes and it will sit on foundations piled to a depth of 25 metres. To minimise disturbance for local residents, noise mitigation measures such as sound barriers will be used around the piling equipment.
Most of the piling will take place during the daytime between the hours of 7.30am and 6pm, Monday to Friday. However, SGC says it is not expected that piling will be carried out every day during this time.
It is anticipated that overnight work will be required for approximately 18 nights during the first two months of the piling. This will be carried out between the hours of 6pm and 3am. If weekend work is required, this will only take place on Saturday mornings between 8am and 1pm.
In other news, SGC has published a more detailed construction programme for the Cribbs Patchway MetroBus Extension project (see below) which shows that highway-widening works on Gipsy Patch Lane east of the bridge will now not begin until autumn 2020. This is a change to the programme previously published as part of the planning application which foresaw this work starting in summer 2019 and requiring a one-way closure of a stretch of Gipsy Patch Lane for 12 months.

Above: CPME construction programme. [Click to enlarge]
An eight-month full closure of the road at the railway bridge is planned to start in mid-March 2020, ahead of the replacement bridge being manoeuvred into position during a closure of the railway over Easter 2020.
Construction of the new bridge, within the Griffiths site compound on the Horizon 38 business park, is due to start in November. The completed bridge will be moved from the compound and into its final position by an array of self-propelled modular transporters (SPMTs). A source at Network Rail has described this operation as "the largest lift of its kind ever undertaken in Europe".
SGC has declined to reveal its revised plans for traffic management associated with the highway widening works east and west of the bridge, which are needed to create new bus lanes.
Construction of a new eastbound bus lane on Gipsy Patch Lane east of the bridge (towards the Hatchet Road Roundabout) has proved controversial because it requires the removal of 22 mature trees on the south side of the road.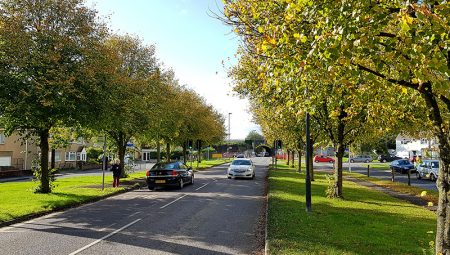 More information:
Photos – Top: An excavator prepares the embankment for piling. Above: Trees along Gipsy Patch Lane, east of the railway bridge. Those on the south side (left in picture) are to be removed so that the highway can be widened.
This article originally appeared in the October 2019 issue of the Stoke Gifford Journal magazine (on pages 4 & 5). The magazine is delivered FREE, EVERY MONTH, to over 5,000 homes in Stoke Gifford, Little Stoke and Harry Stoke. Phone 01454 300 400 to enquire about advertising or leaflet insertion.
---
UPDATE (06/11/19):  Overnight piling to start 20th November
South Gloucestershire Council has announced that the first phase of overnight piling work at the Gipsy Patch Lane railway bridge site is due to take place for three nights from Wednesday 20th November to Friday 22nd November, between 6pm and 3am, and on Monday 25th November, between 6pm and 3am.
Share this article:
Tags: Cribbs Patchway MetroBus Extension, Gipsy Patch Lane Railway Bridge, MetroBus, MetroBus Extension build