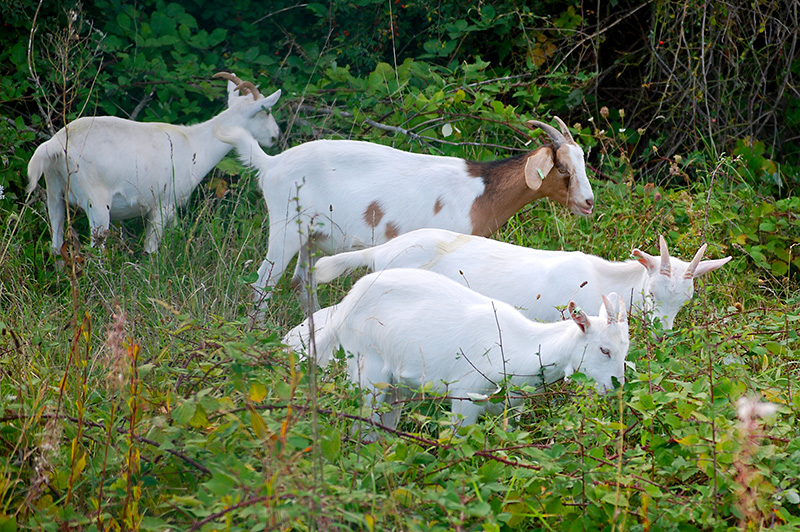 Goats will soon be returning to Stoke Gifford, as a small group takes up residence on scrubland surrounding the Parkway North Park & Ride site on Hunts Ground Road, behind Parkway Station.
The goats are owned by community urban farming project Street Goat, which has several herds of goats on land in and around Bristol. They are used as part of a 'conservation grazing' initiative which plans to restore grassland and encourage the growth of wildflowers on sites that are important for wildlife.
The aim of the grazing at Parkway is to increase the population of the small blue butterfly (cupido minimus), which is classified as a 'priority species' in the UK Biodiversity Action Plan. This species of butterfly feeds solely on a rare wildflower called kidney vetch which grows at this location. The goats munch on brambles and shrubs, and this makes way for more of the kidney vetch to grow, which should then hopefully increase the numbers of the small blue butterflies.
The goats are very friendly and enjoy visitors but please be aware that access to the grazing area is restricted, so the animals cannot be petted and must be viewed through a fence. Street Goat also requests that you don't feed them as they have sufficient natural food to keep them healthy.
If you would like to help look after the new arrivals, you are welcome to sign up and become a volunteer goat herder. Jobs involve helping to monitor the goats, clean shelters and report any issues to Street Goat. It's a great way to be involved in a local project and spend time outdoors! Please contact Streetgoats@gmail.com
The first goats are due to arrive at the site in early October. For the latest news, visit www.streetgoat.co.uk or the Street Goat page on Facebook.
This article originally appeared in the October 2020 issue of the Stoke Gifford Journal magazine (on page 11). The magazine is delivered FREE, nine times a year, to over 5,000 homes in Stoke Gifford, Little Stoke and Harry Stoke. Phone 01454 300 400 to enquire about advertising or leaflet insertion.
---
Update (Feb 2021): The goats have returned!
Added 1st February 2021.
The goats are back at Parkway (again)! A source at Street Goat told the Journal: "They will be there for the month of February."
The source added: "We are aware that the brown one is limping and has a poorly foot. He has been moved from another site so that he can be treated daily and checked on."