A full closure of Gipsy Patch Lane between its junction with Little Stoke Lane and the railway bridge is scheduled to come into effect from 8pm tonight (Friday 27th August 2021).
The temporary road closure is required to allow preparations to be made for the planned one-way (westbound) reopening of the carriageway under the railway bridge in "early September". This will permit motor vehicles to travel along Gipsy Patch Lane between Little Stoke and the A38, via the railway bridge underpass, for the first time in 18 months.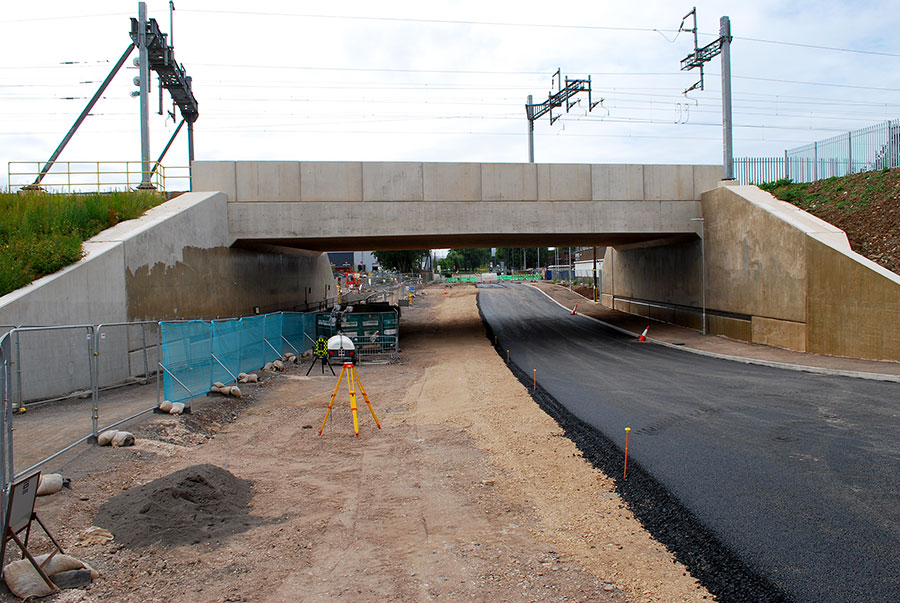 South Gloucestershire Council says the one-way system is necessary to "allow safe and efficient working" during the construction of new bus lanes along Gipsy Patch Lane, on either side of the bridge. It is expected to be in place until the highway works are completed, which is currently anticipated to be in "late 2022".
The preparatory work being carried out in the coming days will include the installation of temporary road studs and a temporary vehicle restraint barrier. The purpose of the temporary barrier is to segregate public traffic from works traffic "in order to keep everyone safe".
Work on the new road widening east of the bridge will commence on Tuesday 31st August, with work west of the bridge starting once the one-way system goes live in September.
A council spokesperson said:
"The works, so far as is reasonably practicable will be undertaken during daytime hours; however, night working is unavoidable between 8pm and 6am on Friday 27th August and Friday 3rd September. These works will involve some background noise but only for a limited duration."
Traffic management
To enable this next phase of work, Gipsy Patch Lane will be closed to traffic in both directions from its junction with Little Stoke Lane through to the railway bridge from 8pm on Friday 27th August until the one-way system commences in September.
This will mean that all side roads along this stretch will be closed to traffic at their junction with Gipsy Patch Lane. This will include Station Road, Gifford Crescent, the service road, Smithcourt Drive and Bush Avenue. This will take effect from Friday 27th August until completion of the works in late 2022.
Vehicular and pedestrian access for residents and businesses will be maintained via diversion routes. The eastern access to Bush Avenue, nearest to Little Stoke Lane, will remain fully open to residents and patrons of the pub. Vehicular access to the shops at Gifford Crescent will be via Kingsway and vehicular access to Station Road will continue to be via Clay Lane to the north.
The Gipsy Patch Lane service road's junction with Gifford Crescent, and Little Stoke Lane will remain open.
Pedestrian access
Pedestrian access under the bridge will also remain open and a temporary crossing facility will be in place between the junctions of Gifford Crescent and Station Road whilst work to widen the road and reconstruct the existing crossing takes place.
• For details of the upcoming one-way system, see: Council confirms one-way reopening of Gipsy Patch Lane "in September"
More information and related links: