Posted on Saturday 16th February 2019 at 7:27 pm by SH (Editor)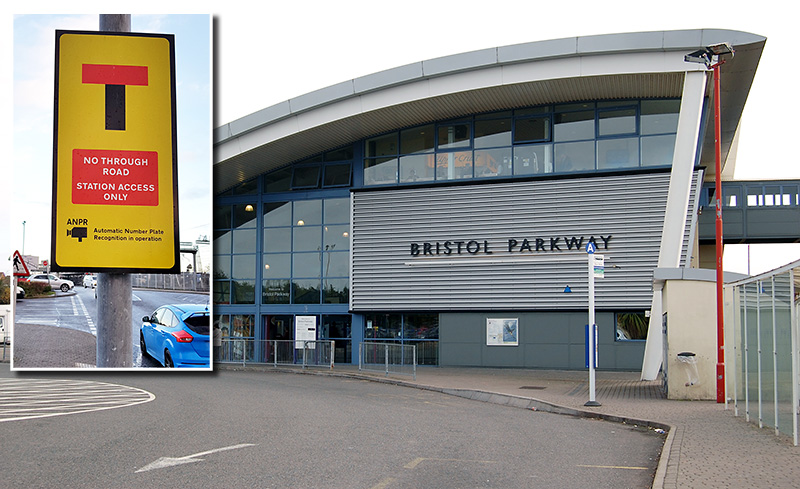 Are you sure it's not just a parking charge notice (PCN) that may have been issued in error?
Motorists who have recently received 'fines' in the post for what they have assumed is an 'offence' of using Bristol Parkway Station as a through road or 'cut through' are urged to double-check their notification letter to see if they have instead been wrongly accused of a parking violation.
The station can be accessed from both the west side (off Hatchet Road) and the east side (Hunts Ground Road) but is clearly signed as a 'private road' that is also a 'no through road'. However, station management company Great Western Railway (formerly First Great Western) confirmed to a member of the public back in 2015 that the rule was not currently being enforced (see below). Furthermore, numerous people have reported driving through on a regular basis over many years, right up to the present time, without any issues.
However, reports on social media suggest that early January saw a flood of letters sent to people who regularly drive through the station without stopping (or who only stop for a moment to drop off or pick up a passenger) notifying them of a £50 'fine'.
Analysis of these reports by the Journal reveals that most of the 'fines' relate to the period 6th to 9th December 2018 and that they have been received by people who make regular 'through and back again' journeys through the station, for example to take a child to school in the morning and to collect the child in the afternoon.
The clearest sign that they are, in fact, not a 'fine' for violating the 'no through road' condition can be seen in the title of the letter: 'Parking Charge Notice' (PCN). However, anyone overlooking this might easily be misled by the fact that the letter, instead of stating both the entry and exit times for the alleged parking offence gives just a single event time. Furthermore, the letter includes two photographs of the offending vehicle entering and leaving the car park, but does not state the locations at which the photos were recorded. Because the backgrounds of the photos inevitably look different (as there as separate cameras pointing in opposite directions at each end of the car park), the reader can easily assume that they were recorded at different ends of the car park, thereby reinforcing the assumption of a 'drive through' violation.
More: Check the details of your PCN online »
Share this article:
Discussion is open - 1 comment (view) - click here to respond.