Posted on Saturday 20th August 2016 at 3:22 pm by SH (Editor)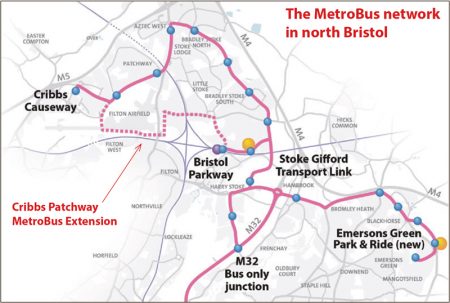 South Gloucestershire Council's (SGC's) decision to approve a scheme that involves ripping up mature hedgerows and scores of trees to install a new bus lane along one side of Hatchet Road has been greeted with dismay by local residents and councillors.
With SGC's own figures showing that the new southbound bus lane will reduce bus journey times by just 29 seconds, and only during the morning peak, with no improvement at other times of the day, the £1.47 million cost of installing it has been described by Cllr Ernie Brown, chair of Stoke Gifford Parish Council and one of three SGC councillors representing Stoke Gifford, as "economic suicide".
The bus lane forms a small part of the Cribbs Patchway MetroBus Extension (CPME), a proposed extension of the wider MetroBus network that is currently under construction. It will link Bristol Parkway Station and The Mall bus station, via Hatchet Road, Gipsy Patch Lane, through the former Rolls-Royce East Works site, along North Way, under the A38 via the existing underpass at the Combination Ground junction, and through the former Filton Airfield site (earmarked for redevelopment as part of the Cribbs Patchway New Neighbourhood).
The scheme also includes replacing the railway bridge on Gipsy Patch Lane with a much wider concrete structure capable of accommodating one general traffic lane and a bus lane in each direction.
Strong opposition to the Hatchet Road widening, which would require a strip of land to be taken from Meade Park (resulting in the loss of some trees) and the removal of hedgerows on both sides of the road south of Meade Park, was evident in the results of a public consultation on the proposed CPME scheme that ran from November 2015 to January 2016.
More: Bus lane option voted through by Conservative councillors »
Share this article: