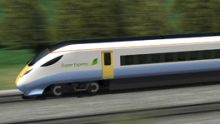 Local residents are being given the chance to address members of the South Gloucestershire committee that is considering a planning application to construct a rail maintenance depot on land adjacent to Sandringham Road in Stoke Gifford.
Members of the public are invited to attend a 'site meeting' of South Gloucestershire Council's Development Control (West) Committee outside 78 Sandringham Road [map] at 10am on Friday (20th January), where they will have a chance to have their say on the plans put forward by Agility Trains as part of the project to electrify the Great Western mainline.
A notice on the Stoke Gifford Parish Council website asks anyone wishing to speak at the street meeting to make contact with the Committee Clerk, Paul Johnston, (telephone 01454 864425) before the day.
The triangular site proposed for the depot forms the north-east quadrant of a diamond formed by railways lines [map].
The site would be accessed from the A38 Gloucester Road via North Way and a private road that will need to be upgraded.
If it gets permission, the 17 hectare (42 acre) site will be used for a main maintenance workshop, a train wash building, a wheel lathe building, accommodation for drivers and cleaners, fuel storage and two electricity substations.
Stoke Gifford Parish Council has objected to the scheme, citing concerns regarding noise levels particularly during the evening and through the night. Councillors have also expressed concern about the general impact of the development particularly environmentally and visually on neighbouring properties.
A petition signed by 561 residents calling on the application to be rejected "on multiple grounds" has also been submitted to South Gloucestershire Council, along with around 50 consultation replies from individual objectors.
The petition itemises the following grounds for rejection:
The very close proximity to a large suburban residential area
The detrimental effect of noise, dust, light and chemical pollution on residents, wildlife and buildings
The continuous 24/7 operation with inevitable night time disruption
The negative effect on house prices and future saleability
Th discharge of polluted water into local rivers
The impact on local drainage with the potential to expand the flood plain and threaten households with flooding
A report compiled by Council officers ahead of the site meeting concludes that "the proposed development is acceptable in principle", adding that the issues to be considered by Committee members are:
Residential Amenity
Flood Risk and Water Courses
Highway Safety and Amenity
Landscape and Visual Amenity
Public Open Space
Related link: Filton Triangle Rail Depot (The Journal)