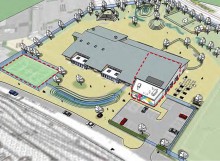 A planning application has been submitted for a new primary school that is due to open next September in Cheswick Village, Stoke Gifford.
The proposed school, which will be an academy operated by the Cabot Learning Federation, is to be constructed on land between Long Down Avenue and the new Cheswick Bus Link – in the centre of the new housing development that will eventually incorporate 1,200 homes.
Wallscourt Farm Primary Academy (as the school is tentatively known) will accommodate 60 pupils per year group, giving it a projected 420-pupil roll size by 2019.
Documents published along with the planning application show that the 2,755sqm building will provide accommodation that is mostly on the ground floor but with some additional space on a mezzanine level.
Once fully operational, the school will have 25 full-time staff. A total of 29 parking spaces will be provided on the site, including two for disabled users.
The school's main entrance will be off Long Down Avenue. There will also be a pedestrian-only access point from the north-west of the site.
The grounds will incorporate a formal playing field and a multi-use games area (MUGA). The proposals allow for an element of community use with the MUGA being available out of school hours as well as controlled community access to two halls and changing facilities within the school building (shown with a red dashed outline in the sketch above).
The school site will be secured by a 2.4m high weldmesh fence around its perimeter.
Subject to being granted planning permission, work on site is scheduled to begin on 1st February 2013. The project will be undertaken in two phases: Phase 1, lasting 31 weeks, ends with the fit out of the new reception classrooms in August 2013; Phase 2, encompassing the completion of the remaining facilities, is due to be completed by Easter 2014.
Public consultation on the planning application runs until Monday 5th November.