Posted on Thursday 10th October 2013 at 8:18 pm by SH (Editor)
The former Little Stoke Youth Centre in Little Stoke Lane is to re-open as The Stokes Youth Centre on Monday 14th October following major building works over the summer.
The centre is now being run by Stoke Gifford Parish Council after South Gloucestershire Council (SGC) decided it could no longer afford to operate youth centres in areas not categorised as 'priority neighbourhoods'.
The parish council has commissioned the Creative Youth Network (CYN) to deliver youth activities on three evenings per week.
The project is being financed through external funding, in the form of grants from SGC's Positive Activities Fund (£20k p.a. for two years) and the New Homes Bonus Fund (£13k p.a. over two years), plus an allocation from the parish council's own budget (raised from the parish precept) of £23k in 2013/14.
SGC also provided capital expenditure of £100,000 which has been spent on a new roof, new electrics, new flooring and heating.
The parish council says it will be looking to market the use of the premises to make the centre sustainable in future years. The Start-Rite Pre- School currently makes use of the building on week days.
CYN says it will be running three sessions a week on Monday, Thursday and Friday evenings. The organisation says it will "offer a safe, friendly, fun environment to come along and meet friends, listen to music, play sport, learn new skills in cooking, the arts, take part in discussions, debates and competitions and go on trips and weekend residentials".
The centre incorporates a recording studio which will be used for regular all-age music/band nights on Friday evenings.
Times of the other regular sessions are as follows:
Monday: 5pm to 7.30pm for ages 11–13yrs
Thursday: 6.30pm to 9pm for ages 14–18yrs
Steve Shield, Clerk of Stoke Gifford Parish Council, said:
"We are delighted to be able to support such an important venue in our community. We are really looking forward to seeing young people get the most out of all the resources and hard work that has gone in to getting the building this far."
Kathryn Challis, Lead Positive Activities worker at The Stokes, said:
"We are really excited to open a youth club in The Stokes area and would like to invite anyone between 11 and 18 to come down for a chat and see what we've got on offer. Everyone has worked really hard to get to this launch date and we couldn't have done it without the generosity and support of the parish council and dedication of the CYN Youth Services team. Personally I can't wait to get underway and be part of this wonderful local community asset."
The launch evening on Monday 14th October (from 5pm) will be a celebration of what has been achieved and will see DJ, music and art workshops for the creatives, sports activities for those feeling a bit more lively and a barbecue to keep everyone fuelled.
More information:  Publicity poster for The Stokes Youth Centre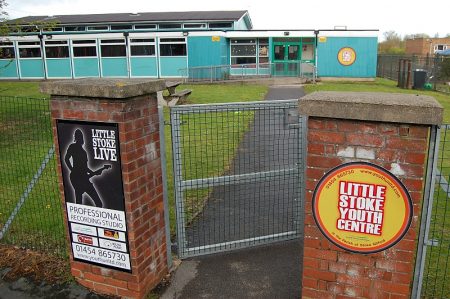 Photo: The old Little Stoke Youth Centre (April 2012)
Share this article:
Tags: Little Stoke Youth Centre, Stoke Gifford Parish Council, youth club