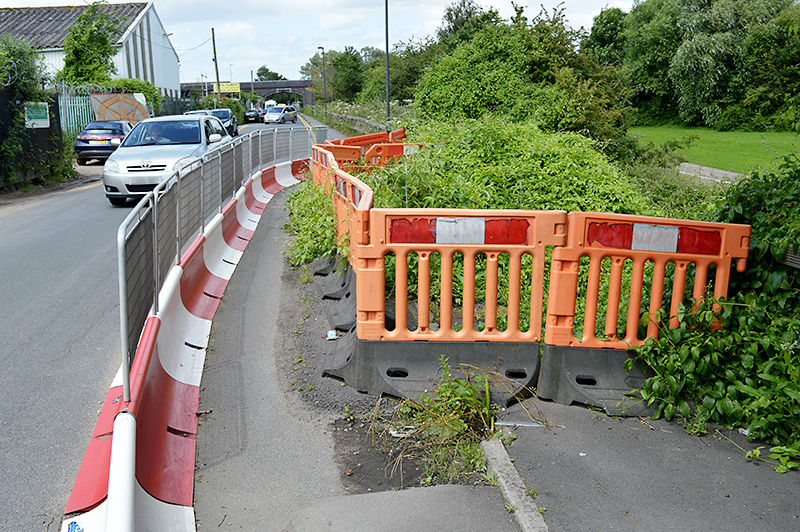 A 250m-long section of Station Road, in Little Stoke, is to be closed to through traffic for up to six months to facilitate the repair of a stretch of footway that has slipped into the adjacent brook.
The footway, just north of Patchway Station and opposite the Patchway Building Supplies compound, has been out of use for more than three years, and during this time has been fenced off with orange plastic barriers.
The work, which is expected to commence on Monday 11th July, is to be carried out by Alun Griffiths (Contractors) Ltd, working on behalf of South Gloucestershire Council.
This is the same firm that is currently undertaking the construction of the MetroBus project in Bradley Stoke and the Stoke Gifford Transport Link.
In a letter sent to businesses and residential properties in the immediate vicinity of the work, Griffiths state that the work will involve the construction of a 'bored pile' retaining wall over a length of 100m, along with the construction of a new footpath and carriageway reinstatement.
Jim Aitken, community liaison officer for Griffiths, writes in the letter:
"Unfortunately, in order for these works to be carried out, it will be necessary for a road closure with vehicular diversion to be implemented for the duration of the works."
The road closure extends from a point just south of the entrance to the Sort It civic amenity site to a point just north of Patchway Station. The 100m work area is located towards the railway station end of the closed section.
Businesses in the area will be open as usual and there will be signs to emphasise this, but there will be no through access for traffic. Consequently, traffic heading for the Riverside Leisure Club and the Sort It centre must approach from the north, while Patchway Station will be reachable only from the south.
A pedestrian route along Station Road will be maintained, albeit locally diverted around the immediate work area.
Anyone with questions or concerns relating to the works can contact Jim Aitken on 08458 622327 (or via email at metrobus@alungriffiths.co.uk). The number is manned between 8am and 6pm Monday to Saturday. Outside these hours, please leave a message and your call will be returned.
More info: Detailed plan showing the closed section of Station Road and the signed diversion routes for vehicles
This article originally appeared in the July 2016 edition of the Bradley Stoke Journal news magazine, delivered FREE, EVERY MONTH, to 9,500 homes in Bradley Stoke, Little Stoke and Stoke Lodge. Phone 01454 300 400 to enquire about advertising or leaflet insertion.