Posted on Saturday 7th March 2020 at 9:23 pm by SH (Editor)
Railway passengers who use bus services or bicycles to access Bristol Parkway have expressed frustration at the impact of bus stop improvement works that started without warning in the forecourt of the busy station on Monday 3rd February.
Passengers arriving by rail have been confronted by metres of 'Heras' metal fencing surrounding the bus stop area and inadequate signage directing them to two temporary stops half-way down the exit road.
Six days into the work, one frustrated passenger tweeted: "Please can you place some clear signage at Bristol Parkway advising where the buses are going to stop during the works – there's a lot of confused people wandering around."
Passengers arriving by bicycle found the extensive two-tier bike storage facility at the station rendered inaccessible by the works, with just a small row of "wheel grabber" racks offered as replacement. Cyclists complained that these racks of this design don't easily allow a secure D-lock to be used and aren't suitable for wide-tyred bikes.
More substantial and secure temporary bike racks appeared at the station during the third week of the works, but not before one frustrated cyclist who contacted the Journal had spent £700 on a fold-up bike so she could avoid having to leave her original bike inadequately secured.
No information about the scope of the bus stop work or its duration is on display at the station and passengers who made enquiries at the ticket office were told that it was "council MetroBus works and nothing to do with GWR [the train operator which manages the station]".
However, South Gloucestershire Council's response to enquiries made by the Journal yielded a contradictory account, with a spokesperson saying: "GWR are managing the work currently taking place at Bristol Parkway Station, which includes improvements to bus stop facilities for local services and MetroBus stops."
The spokesperson added that the MetroBus stops being installed are intended for use by the Cribbs Patchway MetroBus Extension (which isn't due to begin operating until 2022).
Journal readers will recall that the original 'North Fringe to Hengrove Package' MetroBus scheme included a route that entered and exited Parkway via Hunts Ground Road (to the east) but this was silently shelved before the service became operational. It was originally thought that this was because buses entering Parkway from the east were unable to navigate around the tight turns, but it later transpired that the real reason was that they would be unable to make a U-turn in front of the station.
A spokesperson for GWR confirmed that the £650k scheme of improvements currently being implemented will permit buses to "arrive and depart in all directions at the station".
According to the spokesperson, the full scheme includes:
Doubling the number of bus stops, and making the road wider
Road markings; kerbing and relaying surfaces to mark out the new bus stops
Installation of four new bus shelters, with real time bus information
Bus operators have been informed that the work will take around 16 weeks to complete.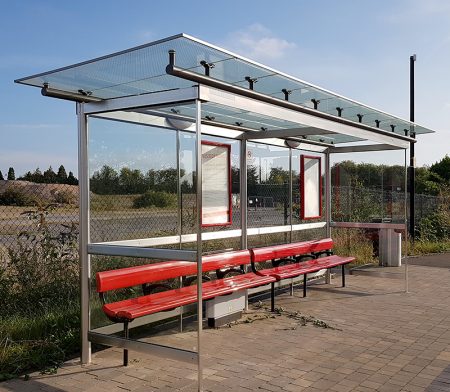 Photos: 1 Improvement works at the bus stops under way in early February. 2 Temporary bus stop sign. 3 Sub-standard (insecure) temporary bike rack. 4 A currently unused MetroBus stop on Hunts Ground Road.
This article originally appeared in the March 2020 issue of the Stoke Gifford Journal magazine (on pages 8 & 9). The magazine is delivered FREE, nine times a year, to over 5,000 homes in Stoke Gifford, Little Stoke and Harry Stoke. Phone 01454 300 400 to enquire about advertising or leaflet insertion.
Share this article:
Tags: Bristol Parkway, MetroBus