Posted on Wednesday 29th November 2017 at 11:55 pm by Laura Mortimore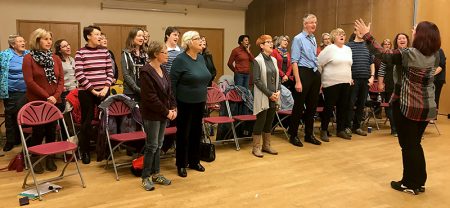 The Gospel Generation Community Choir (GGCC) have supported Christian band Treasure Field during their concert held in the St Michael's auditorium in Stoke Gifford on 18th November.
The GGCC are a voluntarily run choir, which began about 15 years ago with just one choir, and now have four different choirs across Bristol (Stoke Gifford, Thornbury, Shirehampton and Easton). The four choirs meet at their separate locations for an 8-10 week term and then bring together their 90-100 members at the end to perform as one large choir. This term, they have ended their rehearsals with an incredible concert, supporting Treasure Field during their winter tour.
Emma Smallwood, leader of the Stoke Gifford choir told me how she was feeling in the week leading up to the concert:  "I'm feeling really confident. The songs are sounding great and I think the choir is really going to enjoy singing them."
The concert was a huge success, taking place on Saturday 18th November in the auditorium at the St Michael's centre. The GGCC had a half-hour slot at the start of the concert in which they sang four songs, perfectly harmonising the sopranos, tenors and altos. The choir were especially proud of their performance of 'Praise Waiteth', which was one of the more difficult songs in their set. It took them a long time to bring the different harmonies together, but the result sounded stunning.
They also sang with the band, a beautiful mix of the well-known 'Silent Night', which was a hit with the 200 strong audience. Treasure Field were grateful for the support of the GGCC, posting on Facebook: "Big shout out to the Gospel Generation Community Choir as well who were totally brilliant." Even the fire alarm going off during Treasure Field's final number didn't stop anyone from enjoying the show!
More: Where to catch GGCC in concert during December »
Share this article:
Discussion is open - be the first to comment - click here to respond.