Posted on Wednesday 10th April 2019 at 7:01 pm by Laura Mortimore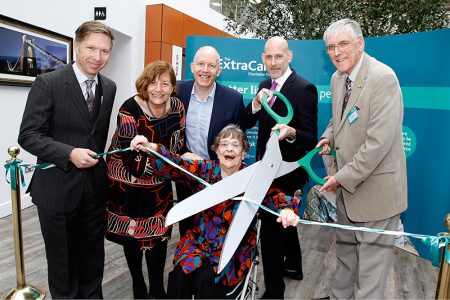 A vast, multi-million pound retirement complex has officially opened in Stoke Gifford. Located off Coldharbour Lane, opposite the University of the West of England (UWE), the Stoke Gifford Retirement Village offers those over the age of 55 a new approach to retirement living. Made up of 92 one-bedroom and 169 two-bedroom fully accessible, self-contained flats, the village is set across 5.5 acres of land and includes a host of on-site facilities.
The Stoke Gifford Retirement Village, which has been under construction for the last 2.5 years, opens as part of a £56m development programme between retirement charity The ExtraCare Charitable Trust, South Gloucestershire Council, who provided £1.9m, and Bristol City Council, who provided £2.8m. This was alongside a contribution of £2.4m from Homes England through the Department of Health and Social Care's 'Care and Support Specialised Housing Fund'.
The ExtraCare Charitable Trust, established in 1988, operates a number of retirement villages and smaller housing developments around the Midlands and further south. Their mission is to "create sustainable communities that provide homes older people want, lifestyles they can enjoy and care if it's needed".
Retirement villages have been designed as an alternative to the traditional care home. The idea is to enable older people to enjoy healthy, active, and independent lifestyles in their later years. However, should care and/or dementia support be needed, it can be assessed and provided in the comfort and privacy of a resident's own village home. This means that couples can remain together even when one partner becomes frail.
More: Villages "foster an environment of supported independence" »
Share this article:
Discussion is open - be the first to comment - click here to respond.