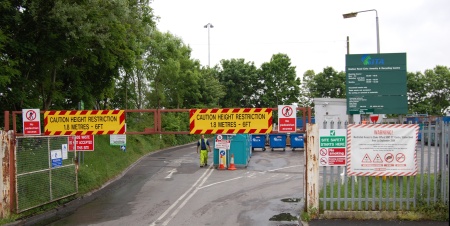 The Sort It! civic amenity site in Station Road, Little Stoke, is to be closed for two weeks in February to allow essential maintenance work to be carried out.
The site will be closed from Monday 4th February to Sunday 17th February inclusive, during which time work will undertaken to improve facilities and maintain a safe environment for residents and staff.
The works will include the introduction of pedestrian walkways with handrails and allow for the removal of steps to containers, making it easier for local residents to undertake their future recycling activities. The access road will also be resurfaced to provide a smoother ride for drivers.
Vicki May, SITA UK's South Gloucestershire-based Regional Manager, said:
"Our overriding priority is the continued safety for all at the Sort It! Centre and working with South Gloucestershire Council (SGC) the decision to close the centre has been made to allow improvements to be carried out efficiently."
Chair of SGC's Communities Committee Cllr Claire Young said:
"We aim to deliver an excellent recycling service for our residents so I am very pleased to see these improvements to the Stoke Gifford Sort It! Centre. The improvements will make it even easier for people to recycle their household waste and will help us to further reduce the amount of waste that goes to landfill."
During the temporary closure, the remaining three Sort It! Centres, at Yate, Mangotsfield and Thornbury will be open as usual every day from 8am to 4:30pm.
Council's search for a replacement site continues
The Stoke Gifford Sort It! Centre has been earmarked for replacement by SGC, on the grounds that it is "providing an inadequate service for local residents" (2008 Waste Strategy document).
In July 2011, the Council told the Bradley Stoke Journal:
"The Council's plans to identify alternative land on which to build a replacement Sort It! Centre for the Stoke Gifford area are still very much work in progress. Since 2005 the Council and SITA have carried out extensive searches on available land so far without success due to planning and highway restrictions. Until recently this project has been on hold pending the review of both Green Belt and other industrial sites to see what alternative and suitable land becomes available."

"Securing land on which to build a new site is still a key objective of the council's local waste strategy and is now incorporated in the Council's Core Strategy document, policy CS27, relating to development East of Harry Stoke, which provides for a 'waste transfer and recycling facility'. It is now hoped that with more housing developments being built that this will open up further opportunities and discussions with developers. However, even if we manage to identify suitable land going forwards, delivering a new site is still going to take several years to complete."
Related link: South Gloucestershire Sort It! Centres (SGC)