Planning Application
Reference number: PT11/2781/F
Description: Erection of a Rail Maintenance Depot including sidings and associated maintenance buildings and accommodation, and fuel storage facilities. Improvements to existing access road, internal access roads and car parking, security fencing and landscaping.
Location: Filton Triangle, Stoke Gifford, Bristol BS34 7QG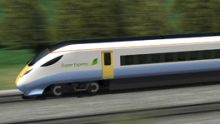 The application is promoted by Hitachi Rail Europe Ltd as part of the Department for Transport's Intercity Express Programme (IEP), which:
"comprises the infrastructure, rolling stock and franchise changes needed to replace services operated by Britain's aging fleet of high speed trains with faster, higher capacity, more comfortable and more environmentally friendly services".
Train manufacturer Hitachi has joined with infrastructure firm John Laing to form the Agility Trains consortium.
The Site
The triangular site proposed for the depot forms the north-east quadrant of a diamond formed by railways lines.
The site is accessed from the A38 Gloucester Road via North Way and a private road that will need to be upgraded.
View
Filton Triangle Rail Depot
in a larger map
Public Consultation
A public consultation exhibition was held at Little Stoke Community Hall on Monday 22nd August 2011.
Public Meeting
A public meeting involving 70 residents took place on Tuesday 18th October at the Parkway Tavern Public House.
Parish Council Discussion
Planning and Transportation Committee Meeting, 25th October 2011
Residents expressed concerns regarding the proposals for the screening of the depot from the neighbouring properties, fumes coming from the depot, the volume of water being used and disposed of, the control and removal of waste and the noise and general environmental impact it would have on the local area.
Concern was also raised about inconsistency of information, especially that relating to night time working. Residents also expressed their disappointed regarding the general publicity of the application but were grateful to the Parish Council for facilitating an exhibition and a public meeting.
Five Councillors objected to the application on the grounds of:
Lack of consistent information presented to residents and poor publicity regarding the application.
Too many variables following discussions and presentations at recent exhibition and public meeting.
Concerns regarding noise levels particularly during the evening and through the night.
Concerns regarding the general impact of the development particularly environmentally and visually on neighbouring properties.
Two Councillors abstained due to their membership of South Gloucestershire Council's Development Control (West) Committee.
Read more: Minutes of the 25th October meeting
Site Meeting
A meeting of South Gloucestershire Council's Development Control (West) Sites Inspection Sub-Committee was held in Sandringham Road on Friday 20th January 2012.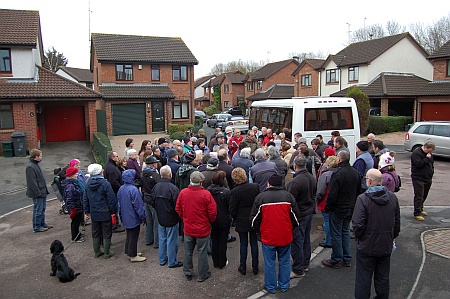 Photo: Residents attend the meeting in Sandringham Road.
Read more: Around 50 protesters attend rail depot site inspection meeting
Stokes Campaign Against Rail Electrification Depot (SCARED)
SCARED can be contacted on: 07884 406 215.
Construction Phase
Minutes of meetings of the Hitachi Residents Liaison Group are available on the Stoke Gifford Parish Council website.
All concerns from residents about construction activities (e.g. noise, light pollution) should be directed to the clerk of Stoke Gifford Parish Council (tel: 01454 865202), who will pass them on to the contractor (Volker Fitzpatrick).
Stoke Gifford Hitachi Intercity Express Depot newsletters:
Related Links
Filton Triangle depot, Stoke Gifford (Wikipedia)
Rail Depot Stories in The Journal
News Items
Weather fails to slow down work on £80m depot for electric trains
21st February 2014 | Bristol Post
Work is under way on building a depot that will service the new generation of electric trains set to run on the Bristol to London line.Japanese firm Hitachi will be servicing the new intercity express trains at an £80 million depot in Stoke Gifford, where trains will be cleaned daily and repaired when needed.
EC Harris awarded depot contract by Hitachi Rail
20th April 2012 | Rail.co
EC Harris, the global built asset consultancy, has been appointed by Hitachi Rail Europe Ltd to assist with the delivery of three Inter City Express Depots that will be constructed on the Great Western Mainline between Swansea and London Paddington.
Depot planned in Stoke Gifford for electric trains
20th January 2012 | BBC Bristol
An application to build a new depot to service electric trains on the Great Western mainline has been submitted. Agility Trains wants to construct the depot on land at Stoke Gifford, close to Bristol Parkway railway station.
Petition against rail maintenance depot now signed by 550 people
17th January 2012 | Bristol Evening Post
More than 550 people have signed a petition against plans for a rail maintenance depot at Stoke Gifford. The project, which could create up to 170 permanent jobs, forms part of the plan to electrify the railway between Bristol and London.
Experts lay it on the line in row over noise from new train depot
28th December 2011 | Bristol Evening Post
A council transport chief has come under fire for claiming a new rail maintenance depot in Stoke Gifford would not disturb neighbouring residents. Rail expert Graham Hooper says likening the two depots is like "comparing a horse-racing track with a motor-racing track".
Council's transport chief sets out to calm residents' fears about noise
9th December 2011 | Bristol Evening Post
A proposed new rail maintenance depot is not likely to make the lives of Stoke Gifford residents a misery, says Cllr Brian Allinson, following a visit to a recently-built rail maintenance depot in Ashford, Kent.
Stoke Gifford rail depot plan opposed by more than 550 people
22nd November 2011  BBC Bristol
Hundreds of residents have signed a petition opposing a rail depot which is being planned for Stoke Gifford near Bristol. The facility, which would service new electric trains on the Great Western mainline, would be built in an area known as the railway triangle.
Letter: Engine noise will disturb residents
4th October | Bristol Evening Post
Graham Hooper argues that some testing of the diesel units on the new trains will have to be carried out in the open air, resulting in disturbance for residential neighbours of the depot.
Rail depot plan could create up to 170 jobs
24th September 2011 | Bristol Evening Post
A major scheme to build a rail maintenance depot at Stoke Gifford could create up to 170 permanent jobs. The project – which will play a similar role to the St Philip's Marsh depot in Bristol – has been drawn up as part of plans to electrify the railway between Bristol and London.
Depot planned in Stoke Gifford for electric trains
20th June 2011 | BBC Bristol
A new rail depot near Bristol could be built as part of plans to electrify the Great Western line between Bristol and London. South Gloucestershire Council said talks have begun between the authority and Hitachi Rail Europe.