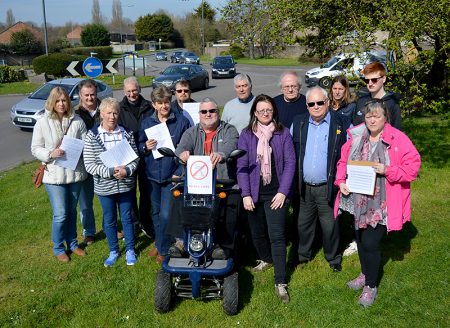 A residents' action group formed to fight plans by South Gloucestershire Council (SGC) to install a £2 million bus lane down one side of Hatchet Road in Stoke Gifford has distributed more than 4,000 leaflets and gathered almost 1,000 petition signatures in the space of just three weeks.
The new southbound-only bus lane will form part of the Cribbs Patchway MetroBus Extension (CPME) scheme, which will link The Mall at Cribbs Causeway with Bristol Parkway Station and serve the new developments planned for the former Filton Airfield site.
Local residents and councillors are opposed to the bus lane because it will require mature hedgerows and trees to be removed from both sides of Hatchet Road. They also question the cost-effectiveness of the scheme, with SGC's own figures showing that the new bus lane will reduce bus journey times by just 29 seconds, and this only during the morning peak, with no improvement at other times of the day (see table below).
There are also concerns that construction of the bus lane might require the road to be made one-way for a long period of time, leading to the village being "cut off".
The Hatchet Road Action Group was formed following a public meeting on 7th March, at which Stoke Gifford's three district councillors said they had abandoned plans to present a motion to SGC calling on it to scrap the bus lane plan in favour of a cheaper and more effective alternative using bus lay-bys, because it was certain to be defeated, leaving them "in a worse position than now".
Speaking at the meeting, Ernie Brown, district councillor and chair of Stoke Gifford Parish Council, said: "Having a bus lane in only one direction and for only part of the route through Stoke Gifford is a waste of time and money. It's a white elephant."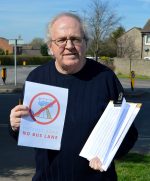 Local resident Paul Tanner responded to the district councillors' appeal for the public to "take up the fight" by volunteering to lead an action group (under the banner 'No Bus Lane on Hatchet Road') and starting a petition.
A group of around 50 supporters have since distributed 4,000 leaflets in Stoke Gifford, Little Stoke and Bradley Stoke. An online petition has so far gathered almost 900 signatures and scores more were collected on Saturday 25th March outside the Tesco Express store in Ratcliffe Drive.
The Journal invited SGC to respond to the claims being made by the action group and provide an update on how the CPME project is progressing, but a spokesperson said they had nothing further to add to previous statements.
More information:
Photos: 1 Campaigners opposed to the construction of a bus lane along Hatchet Road, pictured near the Ratcliffe Drive roundabout. 2 Paul Tanner, organiser of the Hatchet Road Action Group.
Above: The planned bus lane will run on the southbound side of Hatchet Road, from point A (Gipsy Patch Lane roundabout) to point B (Ratcliffe Drive roundabout).
Council officers' assessments of the four options considered for the Hatchet Road section of the CPME route are shown in the table below.
Although Option 3 (favoured by Stoke Gifford councillors) provides the best improvement in journey times in all cases AND comes in at a £1.27m lower cost than Option 1, officers said it "would not necessarily deliver consistently reliable bus and MetroBus journey times".
Instead, they recommended Option 1, as they believe it will "reduce the impacts of day-to-day variations in general traffic conditions and ensure improved CPME service reliability".
• Read the full report at http://bit.ly/ecs-1607 (item 14, appendix A).
This article originally appeared in the April 2017 issue of the Bradley Stoke Journal news magazine (on pages 4 & 5). The magazine is delivered FREE, EVERY MONTH, to 9,500 homes in Bradley Stoke, Little Stoke and Stoke Lodge. Phone 01454 300 400 to enquire about advertising or leaflet insertion.
UPDATE (10/4/17): The online petition now has 1,478 signatures.